Coaxial LED Guide
Home > Products > LED Illumination >
Coaxial LED Guide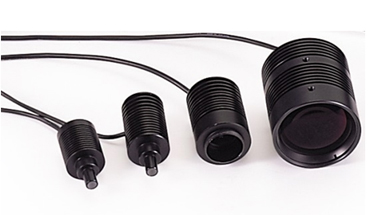 LED illumination is more popular in machine vision application Instead of Halogen source by means of the long life time and compact size.

It is ultra high bright spot illumination also enough for coaxial illumination of most of SPO telecentric lens.

This LED guide high contrast compared to halogen source and long life time, low consumption.

SPO have several illumination colors like R, G, B, White also can provide another colors according to the certain wavelength.


Model
Mag
W.D
(mm)
Resolution
(um)
N.A
F/#
D.O.F
(mm)
Telecentricity
(Degree)
Optical
Distortion
(%)
Sensor Size(mm)
(Diagonal Length)
Mount
Download
SPO-LED-5mm Dia.
W,R,G,B
0.1
W,G,B : 3 / R:2
0.02
W : 5500~7500K / R : 625nm / G : 530nm / B : 470nm
PDF CAD
SPO-LED-0.3W
W,R,G,B
0.3
W,G,B : 3 / R : 2
0.1
W : 5500~7500K / R : 625nm / G : 530nm / B : 470nm
PDF CAD
SPO-LED-1W
W,R,G,B
1.0
W,G,B ;
0.35
W : 5500~7500K / R : 625nm / G : 530nm / B : 470nm
PDF CAD
SPO-LED-3W
W,R,G,B
3.0
W,G,B : 3.5 / R ; 2.5
0.7
W : 5500~7500K / R : 625nm / G : 530nm / B : 470nm
PDF CAD
SPO-LED-5W
W,R,G,B
5.0
W,G,B : 3.5 / R ; 2
1.2
W : 5500~7500K / R : 625nm / G : 530nm / B : 470nm
PDF CAD
SPO-LED-9W
W,R,G,B
9.0
W,G,B, : 11 / R : 8
0.8
W : 5500~7500K / R : 625nm / G : 530nm / B : 470nm
PDF CAD
SPO-LED1W / 3W SPOT LED
W,R,G,B
1 / 3
W,G,B : 3.5 / R : 2.5
0.35 / 7
W : 5500~7500K / R : 625nm / G : 530nm / B : 470nm
PDF CAD